Tod and I started our trip on Friday, August 8th by visiting with my Aunt Marilyn & Uncle Glen in La Grange, CA.  What a beautiful home they have and how nice it was to spend the evening with them.
This trip had a number of highlights including a tent stay in Curry Village in Yosemite Valley which was the only place we could stay for the night on Saturday.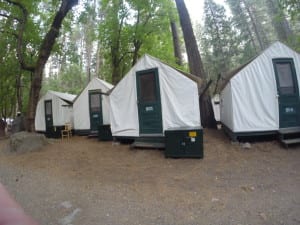 The next morning we took a tour bus from Yosemite Valley to Tuolumne Meadows, which was the conclusion of our hike in 2012 when we walked from Agnew Meadows to Tuolumne Meadows.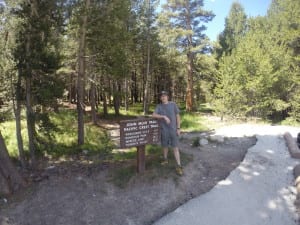 In Tuolumne we stayed the night in the backpackers campground and had a very nice relaxing evening before the start of our adventure. This camp allowed us to have a camp fire, but we did not keep it going for very long because we were worried about the fire dangers in the area. But we did enjoy it while we had it burning.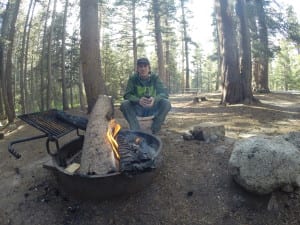 We started at 9am on Monday morning headed toward Half Dome and Yosemite Valley.  This first day, took a side trip to Cathedral Lakes, where we had lunch and tried some ants.  Tod was familiar with the taste of ants when he took a survival course in Boy Scouts.  So I tried them with him and he was right, they have a very tasty lemon flavor.  Here is a picture of Tod at the shore of Cathedral Lake.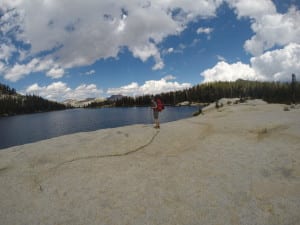 This day we wanted to make it to the junction of the trail to Half Dome which would allow us to get up early for our climb to the top of Half Dome. We found a horseshoe at this site so we thought it was our lucky location. BTW, we have found three horseshoes on three previous hikes.  We had some excitement at this campsite late at night.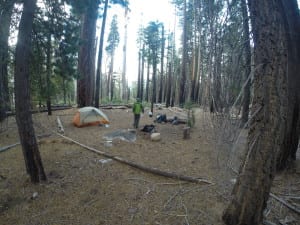 We found this great site for the night but we had seen the signs that there was an active bear in the area so we kept our bear container a safe distance away from our tent.  At about 11:30pm I was awaken by the sound of a bear traipsing through the forest toward our camp site.  I woke Tod and we did all the things we were suppose to do to scare the bear away.  We had our lights and were waving our arms and Tod waved his jacket but the bear could care less about us, other then to look back to make sure we were a safe distance away from him.  The bear was doing everything he could to try get our food canister open.  He would pick the container up with his hands and throw it on the ground over and over, then he started throwing it down the hill to get away from us. We followed him at a distance to keep an eye on him, but after about 20 minutes in the dark we headed back to camp.  We listen to the bear banging on our bear container and rolling it further down the hill.  Eventually , he gave up.  We did not know what happened until the next morning when we looked for our food box and found it down the hill, he had given up trying to get into the container.  This is not the best picture, but Tod is holding the food container over his head after finding it in the morning!  Success over the bear, he did not get our food!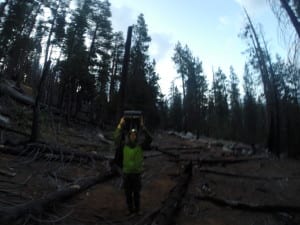 If we had not found our food, we would not have been able to go climb Half Dome without being very hungry the next morning.  Half Dome was spectacular and a little frightening.
Tod took a few very beautiful pictures of our climb to the top of Half Dome.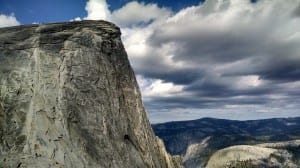 Tod and me getting ready to climb to the top.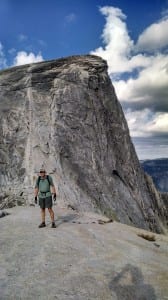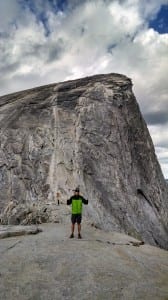 Good picture of the cables which are sunk into the granite with pieces of wood across to help us climb up to the top.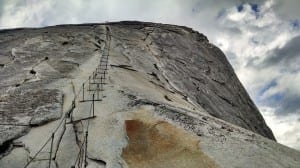 On top looking at the beautiful and vast expanse of Yosemite Valley. We both did not want to get too close to the edge, but we were able to enjoy the amazing view from so high up.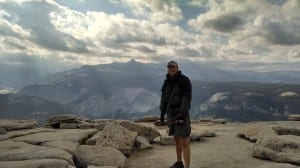 Climbing straight down, and although I look like I am facing forward on the way down, I am only looking this way for the picture.  It was easier to come down backwards since gravity made it easier for us to slide down the shear cliff.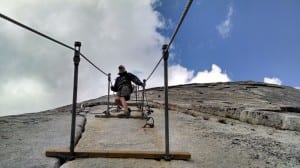 What a beautiful end to our hike through Yosemite.  Here are a couple of additional pictures I like from this trip.